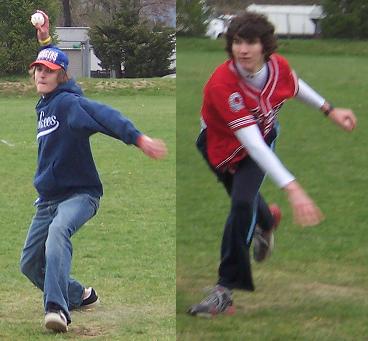 Brett Wilson and Eric Wronsky each threw 8 solid innings striking out 19 and 18 respectively
The 2005 preseason was underway at Bob Meyer's field as Brett Wilson faced off against Eric Wronsky as the home team, and the season has already begun to be exciting. After 8 innings of play, rain and a sharp drop in temperatures forced the game to end in a 2-2 tie as spring training games don't have to end in a winner.
Wilson looked sharper than ever, surrenduring the first hit in the 3rd inning and only allowing 2 runs.
Wronsky had a perfect game going into the 4th until he walked Ashlei Cooke with 2 outs. He allowed the first run when he was unable to find the strike zone for the next 3 batters, walking in a run to make it 1-0. He then walked 4 consecutive batters in the 5th to make it 2-0. Despite some control issues, Wronsky struck out 18 batters in 8 innings.
Wilson also showed some control issues despite fanning 19 batters. Wilson was trying to close out the game in the top of the 6th with a 2-0 lead, but he loaded the bases with a leadoff single and two walks. Emily Dudek drew a walk to make the score 2-1, and Christine Tambini singled in a run to tie the game.
After 2 more scorless innings from both hurlers, the rain picked up and play was stopped. Both pitchers showed some great raw talent that hopefully can be refined as they try and work on not throwing so many balls, and Christine Tambini showed that she can be a force at the plate as she went 3-6 with a double and 1 RBI.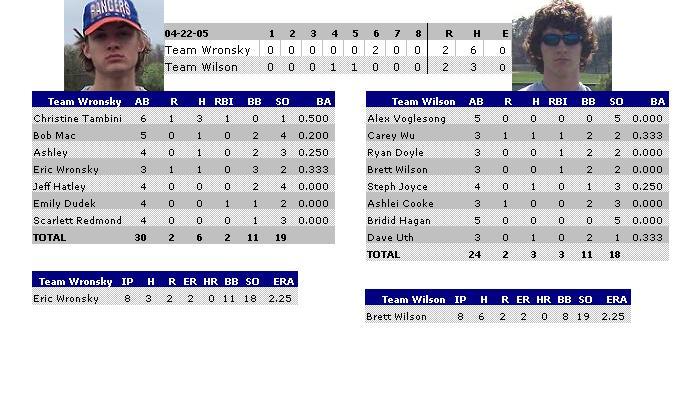 To see more pictures from this game, click
here